Department of Health, Sen. Tartaglione Host Reach Out PA Roundtable to Discuss Mental Health, Substance Use Disorder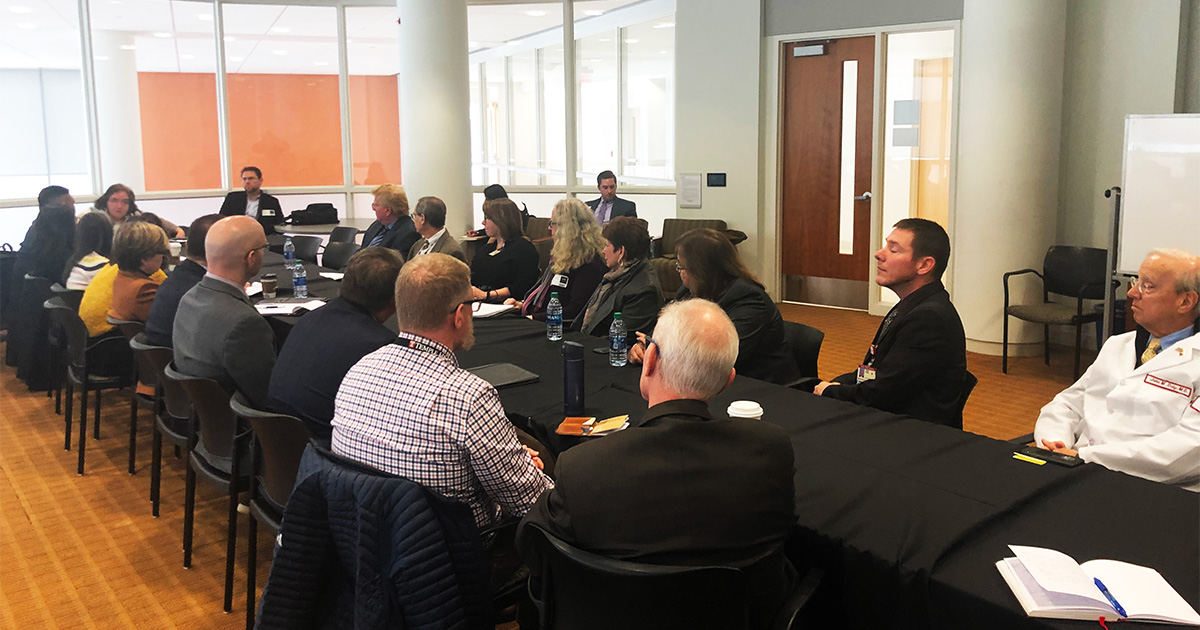 Philadelphia, PA – January 31, 2020 – In coordination with Governor Tom Wolf's Reach Out PA: Your Mental Health Matters initiative announced earlier this month, Pennsylvania Department of Health Secretary Dr. Rachel Levine joined Sen. Tina Tartaglione to lead a roundtable discussion on the mental health challenges and needed supports for those with substance use disorder.
The Reach Out PA initiative is a multi-agency effort and anti-stigma campaign aimed at expanding resources and the state's comprehensive support of mental health and related health care priorities in Pennsylvania. Reach Out PA will address many recommendations for improving mental-health services laid out by the Council on Reform, created last year by the governor's executive order to protect vulnerable populations.
"As part of the Governor's Reach Out PA: Your Mental Health Matters campaign, we want everyone to feel comfortable speaking about their mental health," Secretary of Health Dr. Rachel Levine said. "Talking about mental health issues and the resources individuals need is essential to making sure every resident has access to the care they need. Understanding that it is okay to not feel okay is essential as we work to establish a healthy Pennsylvania for all."
"At the same time, as advocates and leaders, we must acknowledge the weaknesses in the mental-health system and find ways to ensure that every Pennsylvanian has access to the care they need regardless of location, income and the type of care – including that to support substance use disorder – they need."
According to a 2017 study from the University of Southern California, approximately 1 million adult Pennsylvanians struggled with serious psychological distress at least once in 2015. Of those adults, more than 27 percent had an unmet need for mental health care. That population includes 42 percent who did not receive mental health care because they could not afford it.
At Friday's roundtable, mental health providers and advocates, along with community members joined Dr. Levine and Sen. Tartaglione to focus discussion on the mental-health needs and barriers to treatment for Pennsylvanians.
"I'd like to thank the Wolf administration, the medical community, the recovery community, and insurers for convening this roundtable to reinforce and expand our efforts to address Pennsylvania's opioid emergency." Sen. Tartaglione said. "As we strive to heal people who suffer from opioid use disorder, it is crucial that we identify and treat the mental health conditions that often contribute to and perpetuate their illness. We must develop and employ an integrated approach that treats the entire person, an approach that prepares patients for a healthy and productive life."
If you or someone you know is experiencing a mental health crisis or is considering suicide, help is available. Reach out to the National Suicide Prevention Lifeline at 1-800-273-TALK (8255) or contact Crisis Text Line by texting PA to 741-741.
Find more information on the Wolf Administration's fight against the opioid crisis here.
MEDIA CONTACT: Nate Wardle- 717-787-1783 or ra-dhpressoffice@pa.gov
# # #