As part of a statewide "RealJobs RealPay" Day of Action, the senator visited La Barberia in Suburban Station and highlighted the benefits of raising the minimum wage.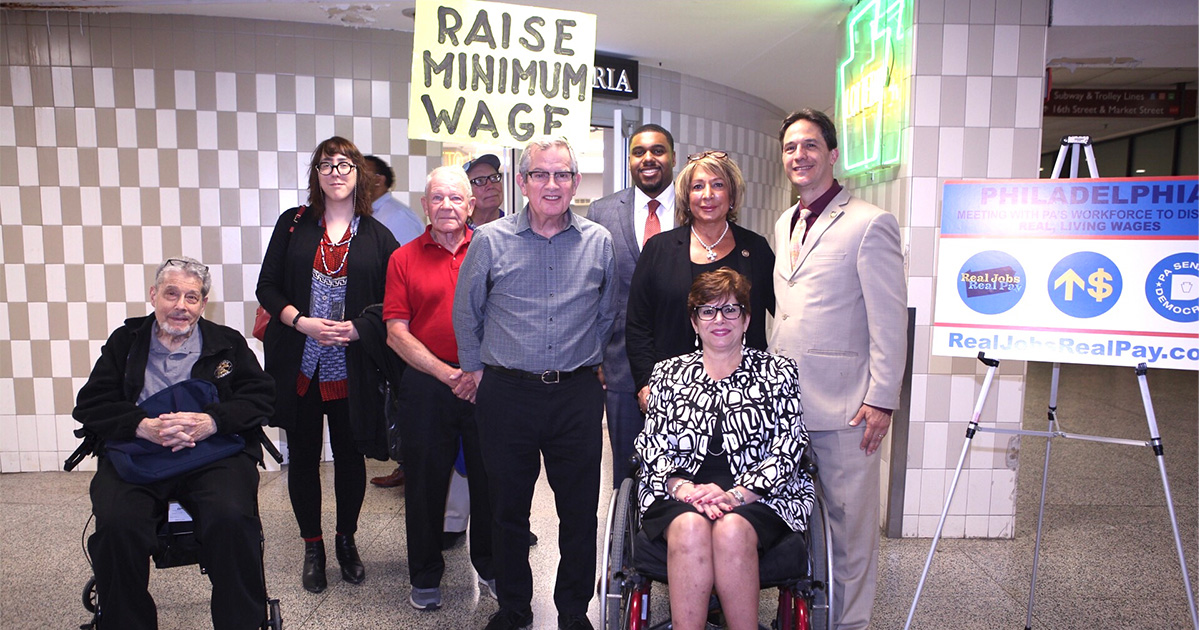 Philadelphia, PA, May 23, 2019 – State Senator Christine M. Tartaglione (D-Philadelphia) today led Pennsylvania legislators on a tour of a successful Philadelphia business that chooses to pay its employees a far, living wage, rather than Pennsylvania's outdated minimum wage.
The visit to La Barberia, a full-service barber shop inside Suburban Station, was one of many events held across the Commonwealth in conjunction with the "RealJobs RealPay" day of action. Senator Tartaglione and her colleagues seek to heighten awareness about the need to raise Pennsylvania's minimum wage and showcase businesses that understand the interdependent relationship of higher employee wages, satisfied customers, and financial success.
Senator Tartaglione is the prime sponsor of Senate Bill 12, which proposes to raise Pennsylvania's minimum wage for the first time in a decade. The legislation calls for an increase from $7.25 per hour to $12 this year, and additional annual increases that would lead to a $15 minimum wage by 2025.
"Many entrepreneurs are proving that taking care of your employees goes hand-in-hand with taking care of your customers and taking care of your bottom line," Senator Tartaglione said. "This formula works, no matter where you do business: whether it's in the heart of a major city, in the suburbs, or in Pennsylvania's beautiful rural communities."
La Barberia has locations in Philadelphia and in Jenkintown, Montgomery County. Owner Michael O'Connor said: "We know that by paying fair wages, our employees are happier and they stick around, providing the great service that keeps our customers coming back and recommending us to others. When the minimum wage goes up, businesses will see costly turnover go down."
Pennsylvania's minimum wage is also the federal minimum, which was last raised in 2009. Pennsylvania lawmakers last acted to raise the state's minimum wage in 2006. Since then, all six of Pennsylvania's border states have raised their minimum wages above the federal minimum. In all, 29 states mandate wages greater than $7.25.
At 40 hours per week for 52 weeks, the minimum wage converts to annual earnings of just over $15,000 a year, which is below the federal poverty level for a family of two, such as a single parent and child. Among those who would benefit directly from Senator Tartaglione's minimum wage legislation, 61 percent are women, 55 percent work full time, and 24 percent are parents.
In Philadelphia, 35 percent of workers would benefit directly. In dozens of Pennsylvania's rural counties, more than 40 percent of workers would benefit. Statewide, more than 1.1 million workers would benefit directly from a $12 minimum wage this year, while another 500,000 would get raises as pay scales rise. A $15 minimum wage would directly benefit 2 million Pennsylvania workers.
"Higher wages put more money into workers' pockets. Seeing as workers are consumers too, they will be able to spend more at the businesses they patronize," Senator Tartaglione said. "In turn, businesses will grow and be able to employ more people."
For more information about minimum wage and businesses that choose to pay fair, living wages, visit RealJobsRealPay.com.
# # #
If you would like more information about this topic, please contact William Kenny at 215-533-0440 or email at William.Kenny@pasenate.com.