Tartaglione: Treasury Unveils New PA ABLE Savings Account Program Website
Harrisburg – January 18, 2017 – A new website administered by the Pennsylvania Treasury will provide access to information about savings accounts designed to aid individuals with disabilities and their families, state Sen. Christine M. Tartaglione (D-Philadelphia) said today.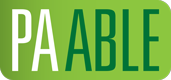 The Achieving a Better Life Experience (ABLE) website can be accessed at www.paable.gov.
"I am pleased that the state treasury has developed a website that will make it easier for individuals and their families to understand the benefits of the ABLE Act," Tartaglione said. "Finding new ways to save for housing, medical expenses, education and transportation helps families better manage costs and improve the quality of life."
PA ABLE accounts provide a way for individuals with qualifying disabilities to save using tax-free savings and investment options.
Tartaglione, along with her colleague Sen. Lisa Baker (R-Luzerne), help shepherd the legislation that established the program through the legislative process.
"The new website will give interested individuals details about program eligibility and how to establish the accounts," Tartaglione said. "This is an excellent resource that has important information."
Treasury will update the website regularly and interested individuals can sign up for e-mails about the program from the treasury. Tartaglione said that a call center has also been created where questions can be answered. The call center can be reached at 855-529-2253.
-30-