Pennsylvania State Senator Christine Tartaglione Receives Honor
Philadelphia, PA − June 10, 2019 − Marsy's Law for Pennsylvania, which is aimed at providing equal rights to crime victims in Pennsylvania by ensuring constitutional protections, announced that State Senator Christine Tartaglione has been presented the Guardian of Victims' Rights Award.
The Guardian of Victims' Rights Awards are presented to people who have served as advocates and ambassadors for crime victims across the state, working to ensure that they are treated with dignity and respect. Sen. Tartaglione is one of the co-sponsors of Marsy's Law legislation, which is seeking an amendment to ensure that the Pennsylvania Constitution enumerates rights for victims of crime.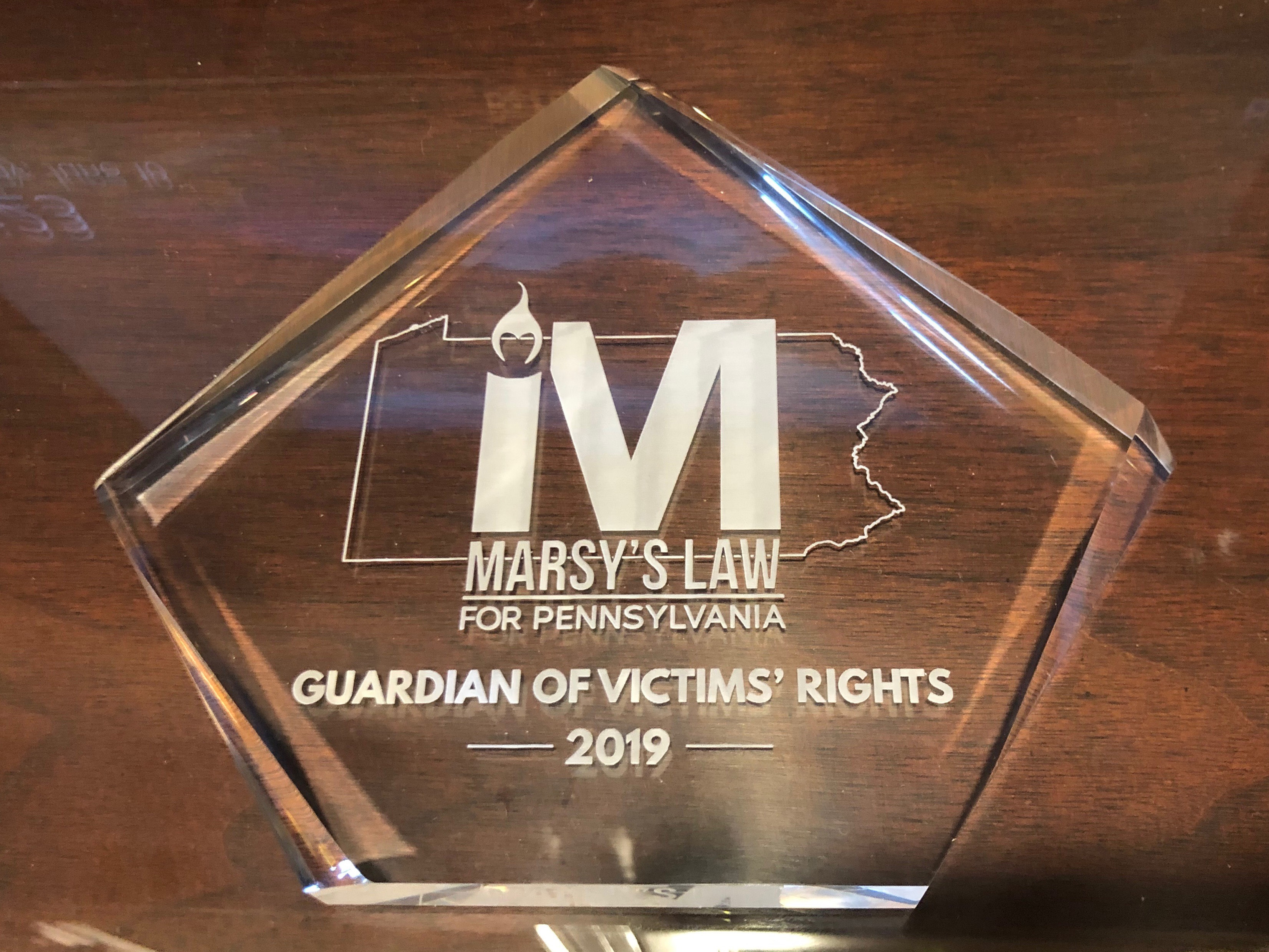 "The Guardian of Victims' Rights Award is a tremendous honor and I am very thankful to Marsy's Law for PA and all of your partners for choosing me to receive it," Sen Tartaglione said. "The issue of victims' rights is very important to me and to the constituents of the 2nd Senate District. Acts of crime can be very traumatic to victims and their families, but the pain does not stop with the act itself."
The award was recently presented to Sen. Tartaglione on June 10 during a meeting with Marsy's Law for Pennsylvania and Jennifer Storm, Commonwealth Victim Advocate.
Although the state constitution enumerates rights for individuals accused and convicted of crimes, Pennsylvania is one of only nine states that does not afford the same protections to crime victims. Rep. Sheryl Delozier (R-Cumberland) recently introduced House Bill 276 for Marsy's Law, which was approved by the House of Representatives on April 8, 2019. Sen. John Sabatina (D-Philadelphia) is sponsoring the bill in the Senate during this legislative session.
For the state constitution to be amended, legislation must pass in two consecutive legislative sessions before being added to the ballot for voter approval. During the 2017-18 legislative session, Marsy's Law passed unanimously in the state Senate and House.
"Victims shouldn't have to relive the trauma each time they go to court, and they shouldn't have to live in fear not knowing if their tormentor may be walking free," Sen Tartaglione said. "Just as our state Constitution protects the due process rights of the accused, it should protect the rights and the peace of mind of those who have been victimized through no fault of their own."