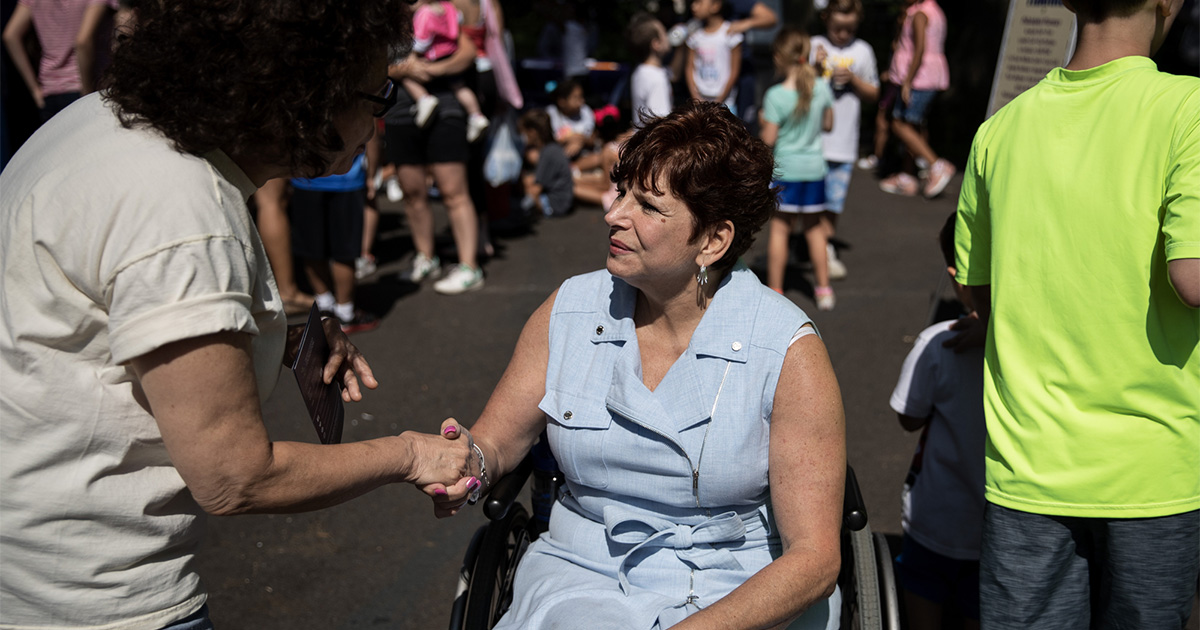 Music, face painting, police horses and the senator's back-to-school backpack giveaway made it a special occasion for hundreds of children and their caregivers.
PHILADELPHIA, PA, August 23, 2018 – Sunshine and smiling children highlighted the third and final round of state Sen. Christine Tartaglione's annual Community Picnic series today as hundreds of youngsters and their caregivers flocked to Fox Chase Recreation Center for an event that has quickly become one of the most popular attractions on the local summer calendar.
Now in its second year at Fox Chase, the gathering carried the momentum built through Senator Tartaglione's previous two Community Picnics on Aug. 2 at Fairhill Square Park and Aug. 16 at Wissinoming Park. DJ music, free refreshments, face painting, Philadelphia police horses, gift basket raffles and a variety of vendors kept visitors entertained and informed throughout the morning and early afternoon. The excitement peaked when Senator Tartaglione handed out free backpacks and back-to-school supplies to attending children.
All told, the senator distributed 250 backpacks to the young learners at Fox Chase, and about 1,100 at all three picnics combined.
"This never would have been possible without the support of many generous donors and community partners," Senator Tartaglione said. "These Community Picnics bring together businesses, non-profit organizations and public agencies for a common goal – to advocate for the education of our children. It's very reassuring and satisfying to know that the picnics get bigger and bigger each year with many new partners and a lot more public attention."
With the 2018-19 school year mere days away for many local children, the opportunity to get a head start on back-to-school shopping was a big attraction for their caregivers, as was the opportunity to spend a mild late summer day in park-like surroundings.
"I like to teach kids about giving back and I think this was a way for kids to see that when you give to your community, how good things come back to you," said Marie Louissaint, counselor at Early Learning Children's Academy of Rising Sun Avenue. "They were excited, especially when they saw the mounted police officers and the face painting. The fire truck was really big with the little ones. Now they have a fresh start (on the school year), a nice new beginning."
Kids weren't the only ones to benefit. Fun and games aside, many of the older folks found some time to gather valuable information about a plethora of topics, such as home health care, assistive technologies for the disabled, adult daycare and rehabilitation, insurance and registering to vote.
Many of the same presenters are also scheduled to participate in Senator Tartaglione's upcoming Senior Expos, an annual series of events to be held on Sept. 27 at Mayfair Community Center (2990 Saint Vincent St.), Oct. 4 at St. Ann's Rectory PAL (2328 E. Lehigh Ave.) and Oct. 11 at Fox Chase Rec Center (7901 Ridgeway St.). All Senior Expos will be from 10 a.m. to 1 p.m. Call Senator Tartaglione's district offices at 215-533-0440 or 215-291-4653 for information.
# # #
If you would like more information about this topic, please contact William Kenny at 215-533-0440 or email at William.Kenny@pasenate.com.