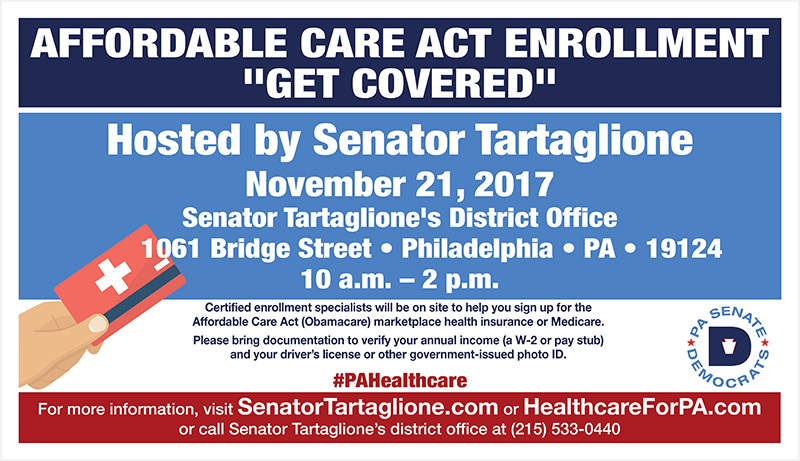 PHILADELPHIA, PA – November 14, 2017 – The Pennsylvania Senate Democrats' ACA Mobile Enrollment Tour will make a stop in Philadelphia on Tuesday, November 21.
Constituents can come to enroll in the individual insurance marketplace or Medicare. Enrollment experts will be there to answer any questions and guide users through the process.
WHEN: Tuesday, November 21 at 10 am
WHERE: Senator Tartaglione's district office, 1061 Bridge St, Philadelphia 19124
Media is encouraged to attend at any point through the day.
This is just one of the stops that the Enrollment Tour will make throughout the state during the ACA open enrollment window for 2018. Here's the full list of stops on the tour:
Thursday, November 16, morning – Cheltenham in Philadelphia
Thursday, November 16, afternoon – Fox St in Philadelphia
Tuesday, November 21 – Bridge Street in Philadelphia
Thursday, November 28 – Bethlehem
Thursday, November 30, morning – Scranton
Thursday, November 30, afternoon – Carbondale
Thursday, December 7 – Pittsburgh
The Senate Democratic Caucus has undertaken this enrollment effort after the announcement that the Trump administration would shorten the enrollment period, eliminate its marketing budget and limit working hours on Sundays.
###