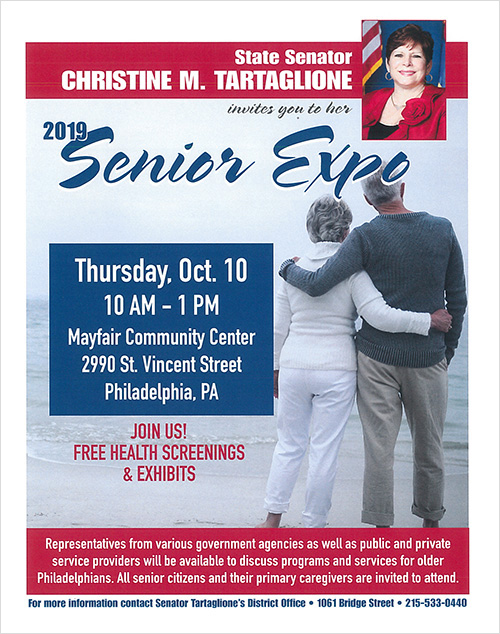 PHILADELPHIA, PA, October 9, 2019 – Tomorrow will be the last opportunity for older Philadelphians and their caregivers to take part in State Senator Christine Tartaglione's 2019 Senior Expo series as the senator will host her final expo of the year at Mayfair Community Center. The event is the third in Senator Tartaglione's popular annual series and will present information about senior-oriented programs and services offered by public agencies and private providers. It will be held from 10 a.m. to 1 p.m. News media coverage is invited and encouraged. Great photo and video opportunities will be available.
Date/Time: Thursday, October 10, 2019; 10 a.m. to 1 p.m.
Location: Mayfair Community Center, 2990 Saint Vincent Street.
For Information (public): Call 215-533-0440 or 215-291-4653 (Spanish).
# # #
If you would like more information about this topic, please contact William Kenny at 215-533-0440 or William.Kenny@pasenate.com.