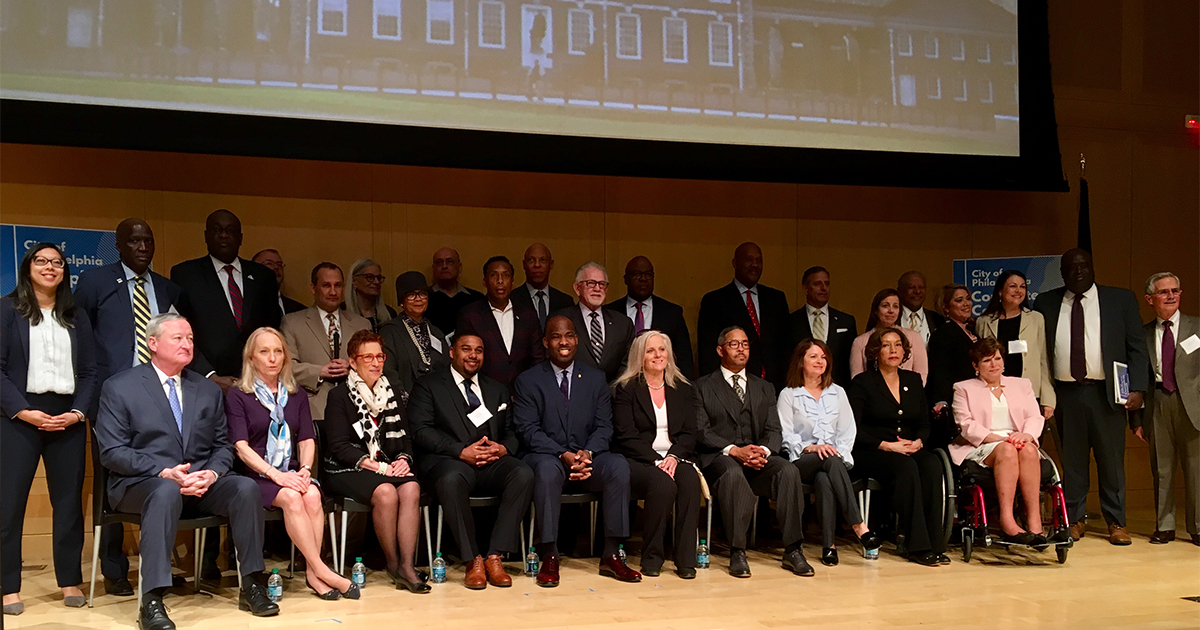 The city's Complete Count Committee held its inaugural meeting at the National Constitution Center to discuss strategies for a new public awareness campaign.
PHILADELPHIA, PA, April 1, 2019 – State Sen. Christine M. Tartaglione (D-Philadelphia) today joined federal, state, and local public officials, along with community, corporate, and labor leaders, at the National Constitution Center to launch a new committee that will promote public participation in the 2020 national census.
Tartaglione is one of six honorary co-chairs of the Complete Count Committee, along with U.S. House members Brendan Boyle, Dwight Evans, and Mary Gay Scanlon; Pennsylvania House member Jason Dawkins; and Philadelphia City Councilman Derek Green. Mayor James F. Kenney chairs the committee.
"I can't think of a better place to begin our work because this is where our American experiment in representative democracy began," Senator Tartaglione said. "The United States Census is explicitly required by the Constitution and is the foundation for our system of government. It's vital that we make sure all Americans are counted."
Article I, Section 2 of the Constitution requires the government to count the nation's population every 10 years. The last census was completed in 2010. The U.S. Census Bureau conducts the count via questionnaires that it distributes electronically and in paper form. Next year's census will be largely conducted via the Internet, but the bureau will deploy workers door-to-door in an effort to contact those who don't respond initially. Individual responses provided to census takers must be kept confidential per federal law.
Throughout the next 18 months, the committee will meet to prepare and carry out community engagement programs that explain the reasons for the census and to reassure residents that it's in their best interests to participate.
Following the organizational meeting, committee members addressed the news media and local high school students to emphasize the importance of the project. Senator Tartaglione informed the young scholars that the size of Pennsylvania's Congressional delegation relative to other states is determined directly by the census. In addition, the new census data will be used to reconfigure State Senate and State House districts. Furthermore, allocations of federal funding for public functions such as education, healthcare, housing, transportation, and college financial aid are tied to census data.
"Participating in the census enables Americans to have a voice in the public affairs that affect our daily lives. I encourage all of my constituents in the 2nd Senatorial District, and all Pennsylvanians to fill out those census forms and to take full advantage of the rights guaranteed to us by the Constitution," Senator Tartaglione said.
# # #
If you would like more information about this topic, please contact William Kenny at 215-533-0440 or email at William.Kenny@pasenate.com.