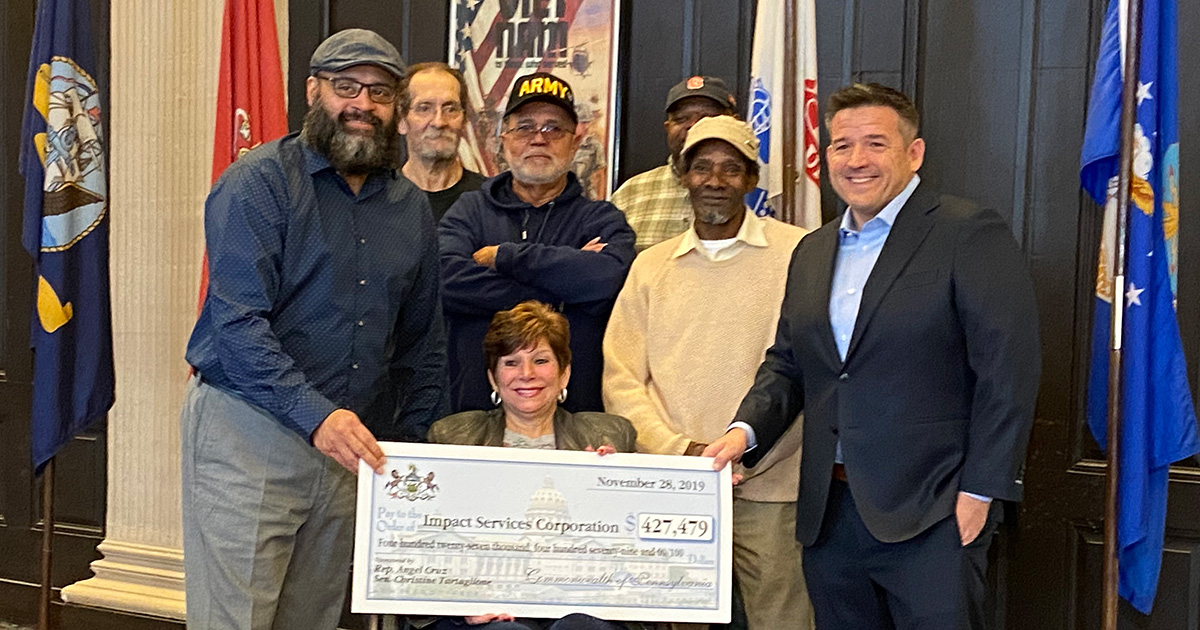 After delivering the Local Share Account grant to Impact Services Corp., the senator and State Rep. Angel Cruz served Thanksgiving meals to formerly homeless local veterans.
Philadelphia, PA − November 27, 2019 – State Senator Christine Tartaglione (D-Philadelphia) and State Rep. Angel Cruz delivered a $427,479 grant from Pennsylvania's Department of Community and Economic Development to Impact Services Corp. today in support of the nonprofit organization's renovation of a former Kensington textile mill into a community gymnasium and multi-use campus.
The 12,000-square-foot gymnasium project is part of a $30 million mixed-use redevelopment of the former Downs Carpet Mill on the corner of 'A' and Indiana streets. Impact Services' longterm plans for the site – which is part of its "Hope Park Focus Zone" – also include 48 affordable housing units, 60,000 square feet of commercial space, a community center, a health center, and a business incubator. Impact Services already provides housing and supportive services for formerly homeless veterans on-site.
"This project has the potential to completely transform this block and the surrounding neighborhood into a social, cultural, and economic destination. So I was thrilled to help Impact Services secure this major state funding," Senator Tartaglione said.
"I am pleased that DCED awarded a grant for this project because it is much-needed for the community," Representative Cruz said. "And I hope to continue supporting the redevelopment of this site."
"This development is an example of what becomes possible when neighbors and government come together to strengthen a neighborhood," Impact Services CEO Casey O'Donnell said. "We are grateful that state officials share in the vision and are making the needed investment."
The grant presented by Senator Tartaglione and Representative Cruz will specifically be used for site preparation, utility separation, demolition of non-historic buildings, heating, air conditioning, and bathroom upgrades. The overall redevelopment project is detailed in Impact Services' "Heart of Kensington" neighborhood plan and involves the entire 140,000-square-foot former mill. Information about the plan is available at www.impactservices.org/neighborhoodplan/.
The Hope Park Focus Zone contains some of Philadelphia's most-active blocks for drug activity and crimes. The presence of vacant buildings and lots throughout the area contribute to the drug and crime problems. Yet, the vacancies also provide "clean slate" opportunities for redevelopment.
Impact Services has been working in the Kensington neighborhood since 1974 to help residents get job training, reenter the workforce, find housing, and build the community. In the last two decades, the agency has developed a specific focus on building a continuum of services including housing for homeless veterans. The agency offers transitional and permanent housing for about 200 veterans in two large facilities and several scattered sites.
The grant presented by Senator Tartaglione and Representative Cruz today was administered through DCED's Local Share Account program, which distributes a portion of slot machine license fees paid by casinos operating within the City of Philadelphia.
# # #
If you would like more information about this topic, please contact William Kenny at 215-5330440 or mailto:William.Kenny@pasenate.com.v