KYW Newsradio will host Flashpoint LIVE: Women Who Work! in Philadelphia this Thursday, Oct. 25. The public is invited to register.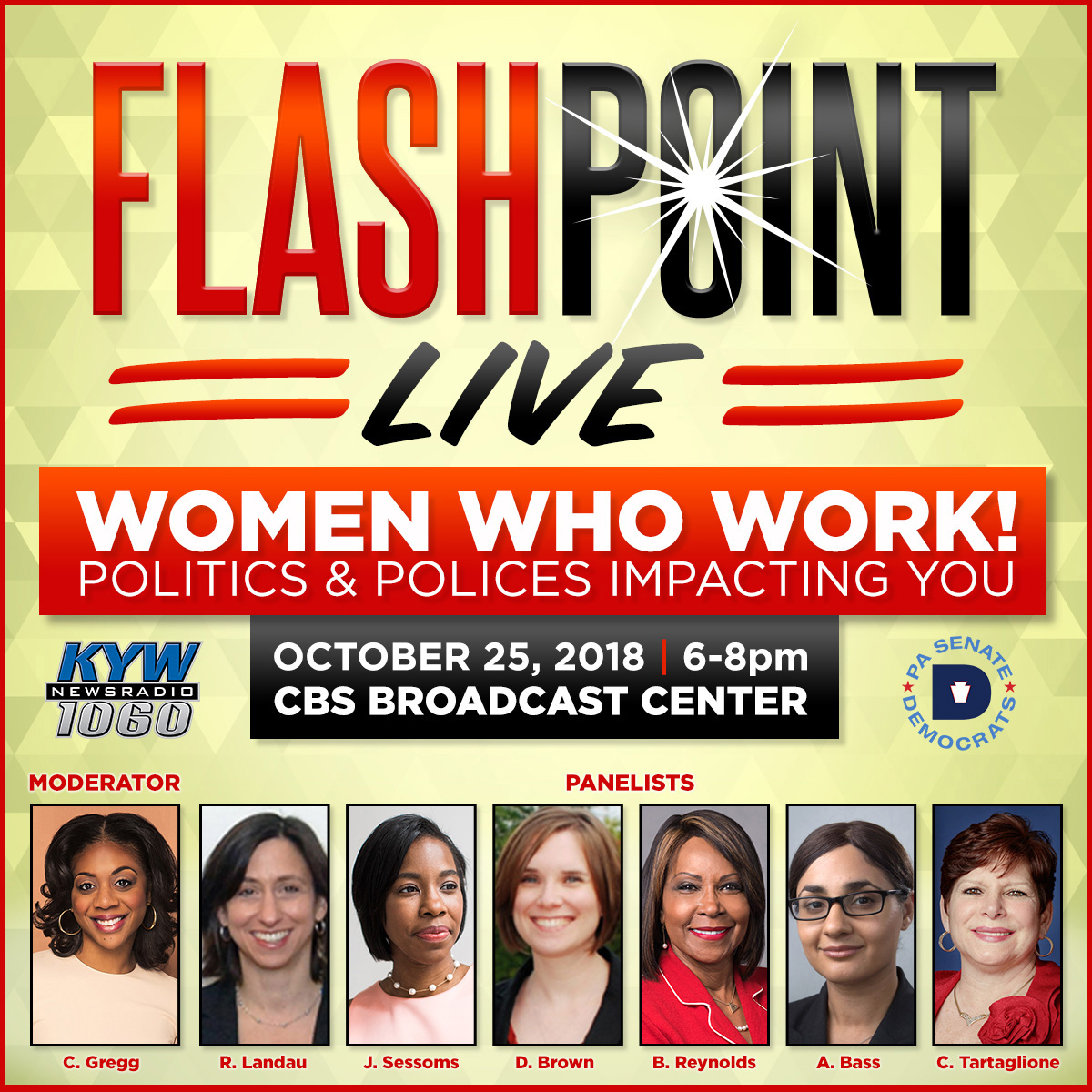 PHILADELPHIA, PA, October 24, 2018 – State Sen. Christine Tartaglione will be among the panelists in an event to be hosted by KYW Newsradio on Thursday, Oct. 25, to ignite dialogue about the politics and policies that impact women in the workplace. Organized in partnership with Pennsylvania Senate Democratic Caucus, Flashpoint LIVE: Women Who Work! is a networking event that will feature two 30-minute, fast paced, panel discussions among women leaders with diverse experiences and points of view. These women, along with input from the audience, will highlight the major issues that promote and hinder women's success at work.
"Unemployment is at an historic low, yet more and more working-age adults are no longer seeking jobs and wages are failing to keep pace with the rising demand for workers. I think it's vital that we examine whether we are doing enough as a society to promote gender equality in the workplace," Senator Tartaglione said. "I can tell you that almost 60 years after the enactment of Pennsylvania's Equal Pay Law, the state's working women make just 79 cents for every dollar that their male counterparts make. I also know that Pennsylvania ranks 29th among U.S. states in this category. Women have made significant gains in the workplace over the last six decades, but we still have a lot more work to do."
The first panel will discuss women and politics – what it takes to run for office, the gender issues on the table for the upcoming mid-term election, the impact of #MeToo on women's leadership in politics and beyond, as well as what it will take to get more buy-in from men. The panel will include Sen. Tartaglione; Jasmine Sessoms, founder of She Can Win, a nonpartisan training program that provides support, mentorship and education to women who possess a passion for civic leadership; and Dr. Dana Brown, executive director of the Pennsylvania Center for Women and Politics, as well as an assistant professor of political science at Chatham University.
The second panel will discuss public and workplace policies that impact women. The issues will include regulations related to gender equality, as well as common practices within workplaces that aid or block women as they strive to climb the ladder of success. Panelists will include Philadelphia Councilwoman Blondell Reynolds Brown; Rue Landau, Esq., executive director of the Philadelphia Commission on Human Relations and the Fair Housing Commission; and Amal Bass, Esq., a staff attorney at the Women's Law Project.
KYW Newsradio Community Affiars Reporter Cherri Gregg, Esq., will moderate the panels. Audience participation is encouraged in person, via livestream and on Twitter hashtag #FlashpointLive
The event will start at 6 p.m. at the KYW Newsradio Broadcast Center, 1555 Hamilton St., Philadelphia, PA 19130. Registration is required.
If you wish to attend the Flashpoint Live: Women Who Work event in person, please register via the following link: https://kywnewsradio.radio.com/events/flashpoint-live#//
The livestream will be available via the following link: https://www.senatortartaglione.com/live
# # #
If you would like more information about this topic, please contact William Kenny at 215-533-0440 or email at William.Kenny@pasenate.com.