During a ceremony in the Pennsylvania Capitol, State Sen. Christine M. Tartaglione and her new and returning Senate colleagues were sworn into office.
HARRISBURG, PA, January 1, 2019 – State Sen. Christine M. Tartaglione (D-Philadelphia) today commenced her seventh consecutive four-year term as she was sworn into office at the Pennsylvania Capitol alongside 24 colleagues who were reelected or newly elected to the Senate in November.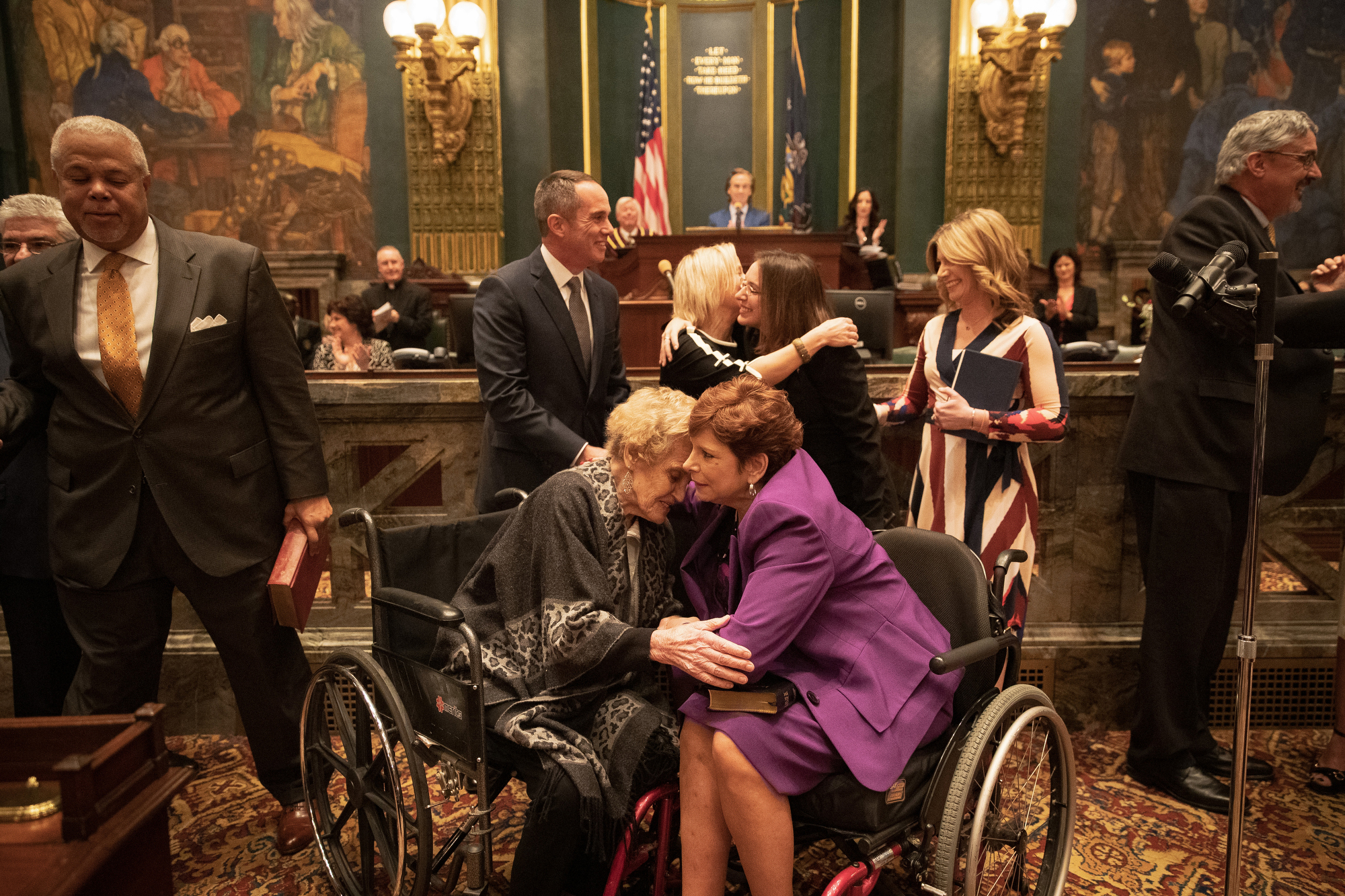 Pennsylvania Supreme Court Associate Justice Kevin M. Dougherty led Democratic senators in reciting the oath of office. Tartaglione's mother, longtime Philadelphia City Commissioner Marge Tartaglione, took part in the ceremony by holding the Holy Bible used by her daughter to take the oath.
Chief Justice Thomas G. Saylor administered the oath to Republicans. The 25 newly sworn senators will comprise half of the 50-member legislative body during the 2019-20 session. Twenty-five other senators are now midway through their current four-year terms.
"I am honored and proud that the voters of the 2nd Senatorial district chose me once again to serve them as their advocate and voice in Harrisburg," Sen. Tartaglione said. "I enthusiastically accept this responsibility with the intention of continuing to fight for the best interests of the working people, retirees, school children, and community-based organizations of the district and throughout the entire state."
In the 2018 election, Democrats gained five seats in the Senate and reduced the Republican majority to 29-21. Tartaglione noted that the Senate welcomed five new women senators today. Women now hold 11 seats, a net gain of four over the 2017-18 session. When Tartaglione was first elected in 1994, she became only the fifth woman ever elected to the PA Senate.
"I am thrilled to see that Democrats and women are finally gaining significant ground in their struggles for equitable representation in the Senate," Tartaglione said. "More than 51 percent of the Pennsylvania population is female, while Democrats comprise the largest political party in the state by more than 815,000 registered voters. It's only fair that those statistical facts are reflected in the composition of the Senate."
With the 2019-20 legislative session at hand, Tartaglione said she will continue to push for workplace rights, educational opportunities, and healthcare protections for the people of the 2nd Senatorial District and all of Pennsylvania.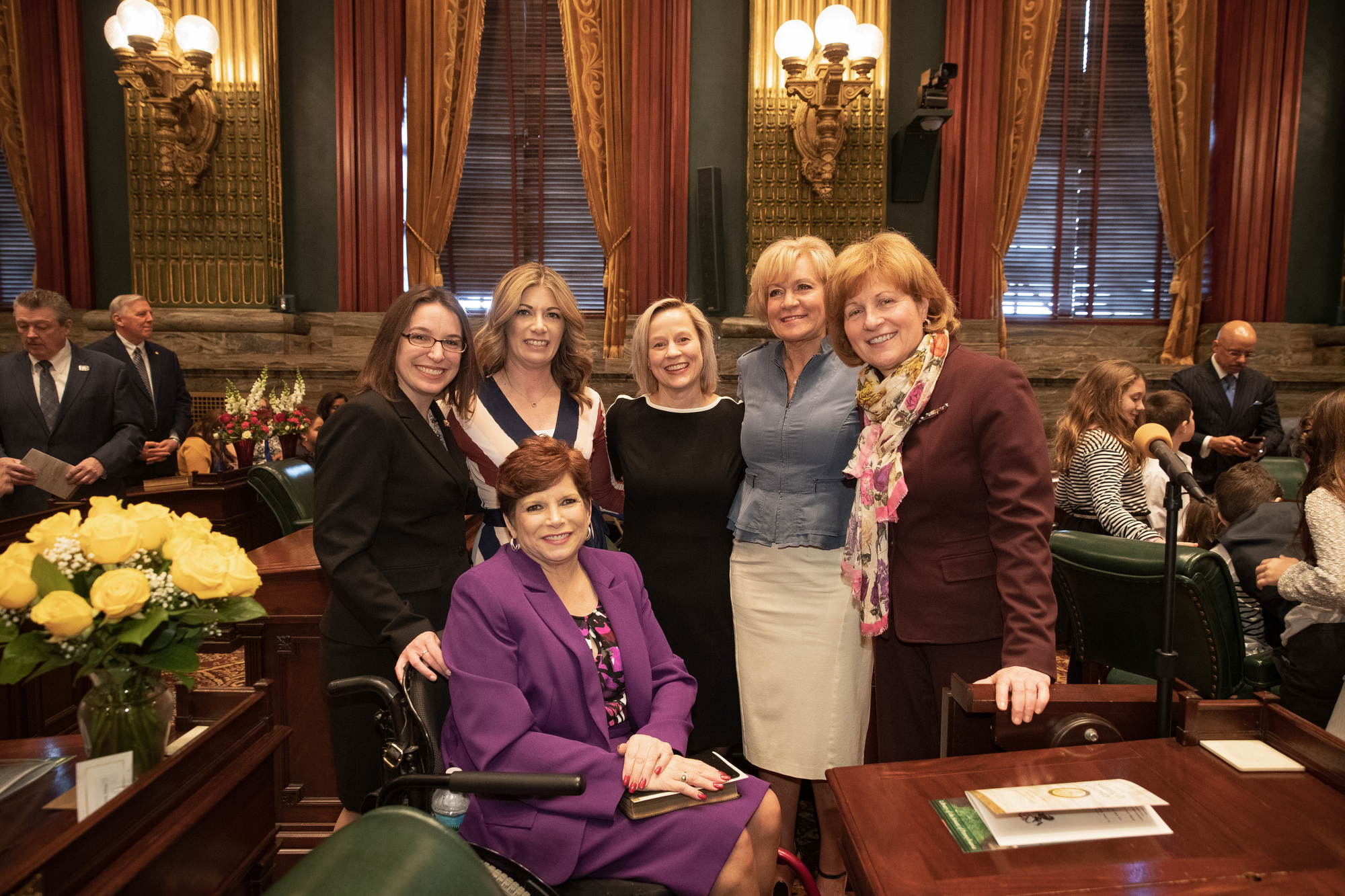 "We are at a critical juncture for our state and for the nation, a time when the economic gap between the very rich and the rest of us continues to widen, and when many corporations, large and small, along with their political allies are driving a coordinated campaign to repeal long-established labor protections, keep wages low, undermine affordable healthcare, and jeopardize retirement security," Tartaglione said.
"History tells us that a thriving middle class is the foundation of a prosperous society, and that strong labor unions support a vibrant middle class. That's why I will continue to lead the fight in Harrisburg for a family-sustaining minimum wage and for fair labor laws that allow unions to balance the playing field between workers and management."
"Education is another pillar of a strong middle class and prosperous economy, so I will continue to advocate in the Capitol for equitable public-school funding, along with apprenticeship and vocational programs that will prepare future generations of workers for success."
Along with these vital initiatives, Tartaglione also maintains a keen focus on the state's opioid epidemic, which has negatively impacted the 2nd district as much as any area of Pennsylvania.
"Working together with state and local officials, healthcare providers, community organizations, the recovery community, and those afflicted by opioid use disorder, I am determined to develop solutions to a problem that is killing Pennsylvanians by the thousands, solutions that will deliver help directly where it's needed and will enhance the quality of life in affected communities."
# # #
If you would like more information about this topic, please contact William Kenny at 215-533-0440 or email at William.Kenny@pasenate.com.