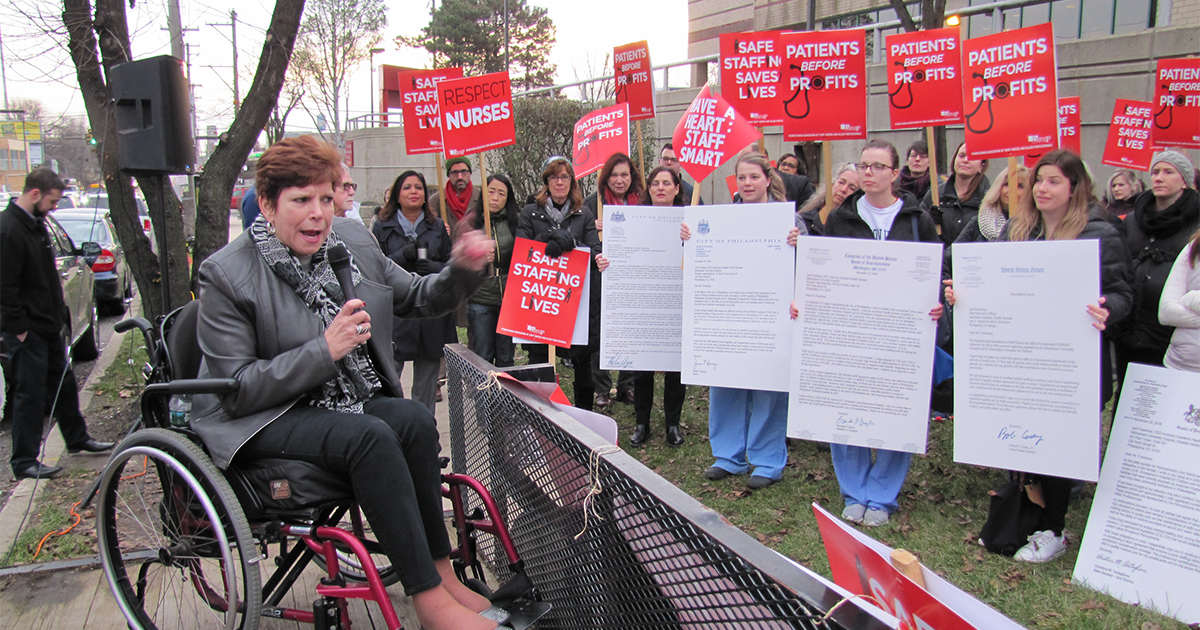 Unionized nurses from St. Christopher's Hospital for Children and Hahnemann University Hospital have been working without a contract since November.
PHILADELPHIA, PA, January 3, 2019 – State Sen. Christine M. Tartaglione (D-Philadelphia) joined picket lines today at two Philadelphia hospitals where registered nurses are fighting for a safe staffing commitment and fair compensation from their common employer.
Nurses from St. Christopher's Hospital for Children in Juniata Park and Hahnemann University Hospital in Center City have been negotiating since August with American Academic Health System, the private, for-profit company that bought both medical facilities last January. The nurses are members of the Pennsylvania Association of Staff Nurses and Allied Professionals (PASNAP) and have been working without a contract since their last collective bargaining agreement expired in November.
Union leaders say that management has been unwilling to include minimum nurse-to-patient ratios in a new contract while offering fair compensation that will enable the hospitals to retain and recruit talented nurses.
"I know that on the table were safe staffing levels that you had agreed to, and at the last minute, they were pulled and they said you had to choose between a raise and safe staffing levels," Sen. Tartaglione told dozens of picketing nurses outside St. Christopher's. "That is unacceptable. I want to know, would anybody on the other side of the table, would they bring their kids to St. Chris with the staffing levels they want to implement? I doubt it."
PASNAP leaders cite research documenting that increased nurse staffing levels correlate directly to fewer patient fatalities, fewer medical complications, earlier patient discharge dates, and improved satisfaction for patients and their families. Meanwhile, wage improvements correlate to higher nurse retention and job satisfaction.
"You're a mother, you're a father, you're a social worker for those children when their parents aren't there," Sen. Tartaglione said. "You're the ones holding their hands and saying, 'Baby, it's gonna be OK.' I know what you do every day. You deserve to be paid for it and you deserve to give the children the services they need."
Tartaglione has been a leading advocate in the Pennsylvania Senate for safe nurse staffing levels. During the 2017-18 legislative session, she co-sponsored S.B. 214 to establish minimum nurse-to-patient ratios under state law. The state already has minimum staffing ratios for child daycare facilities. But there are no such requirements for hospitals.
Today's picketing did not coincide with work stoppages at St. Christopher's or Hahnemann. Organizers described the events as informational in nature. PASNAP represents about 1,400 nurses at the two medical facilities and more than 8,000 members statewide.
For video coverage of today's demonstrations, visit the Facebook page @SenatorTinaTartaglione.
# # #
If you would like more information about this topic, please contact William Kenny at 215-533-0440 or email at William.Kenny@pasenate.com.